The Bells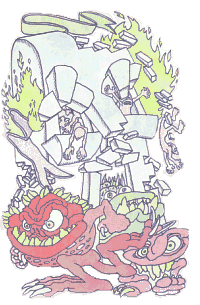 WBLI's Scott Miller is not only one of Long Island's most well known DJs... he also does a tremendous amount of theater acting on the Island (I once saw him in an Arena Players production of Frankenstein - He was pretty damn good!). When I asked him what poem he'd like to read, he said The Bells immediately. He told me he often read it aloud as an acting vocal exercise. His familiarity with the poem shines through his wonderful read!
SUBGUM takes that read one step further by creating all the various atmospheres evoked by the words and the way Scott interprets them.
The Bells perfectly illustrates Poe's ability to be both funny and sinister all in the same poem.
- Dennis Daniel


Read by: Scott Miller, WBLI
Voice-Over Produced by: Scott Miller

Produced by: Craig Berger,


John Holohan, Anthony Petrucci
Music Composition: Anthony Petrucci
Mastered by: Bobby Tis, Craig Berger
Recorded at: Crib Studios, Flushing, New York
© 1998 SUBGUM