Ulalume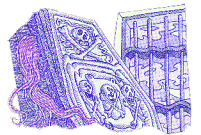 I first met Gabrielle Nistico 2 years ago while doing my shift at WBAB. I was immediately struck by the professional clarity and power of her voice... made all the more striking due to the fact that she was just 18 years old! She ended up working with us at TOPLINE in a variety of roles, including commercial voice-over talent. During that time we became real close pals. I really wanted her to do a poem because I loved her voice, but she was a tough sell! She wasn't sure she could pull it off. After an exhausting, relentless push... she finally agreed. We stayed late one night and cut Ulalume. I was thrilled! She was tired, but we both knew it was right.
Kevin Goode, another WBAB employee, one day asked me if I ever was in need of musicians for advertising work. When it came time to set Ulalume to music, I called on Kevin's 10 years worth of experience as a music teacher and colleague of people like Al Pitrelli (Alice Cooper's guitarist) to bring the poem musically to life.
- Dennis Daniel

Read by: Gabrielle Nistico,
Voice-Over Artist,
TOPLINE and WBAB

Voice-Over Directed and Produced by:
Dennis Daniel at TOPLINE Studios


Ronkonkoma, New York
Music by: Kevin Goode
Studio and Engineering by: Justin Matranga


Final Mix and Enhancement by:
Sound Mechanix
Gabrielle's Comments:
I couldn't think of a better way to bring such a talented group of people together. It took me quite a while to agree to read Ulalume, not only because of the challenge it would be... but also because of the open ended and enigmatic nature of the poem. Once the project was underway, it didn't take long for me to fall in love with the beautifully eerie rhythms that are quintessential E.A.P. During the course of the music recording session, Kevin coined a phrase that was most "Apre-POE." We titled the session "Possessions" simply because to love Poe's work is to become obsessed with it's constant search to find day-to-day meaning; a type of reverence in the words of such a remarkable soulful man.
Thank you Dennis Daniel for finding such a wonderful way to recognize life and the closure very human being searches for.