Alone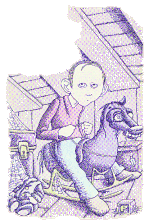 Be prepared to be steeped in darkness and woe. This poem about an adult looking back on a childhood image that confirmed a destiny of horror has been made all the more dark by the haunting music of s.a.m. of Blues to Venus. When I first heard this I got chills! s.a.m. took K.T. Mills perceptive read, repeated phrases and gave the voice-over a fuzzy, far away sound that speaks up from the bowels of hell. I'm-a-scared!
- Dennis Daniel

Read by: K.T. Mills, WALK
Voice-Over Directed by: Dennis Daniel
Produced by: K.T. Mills

Music composed, performed, mixed and produced by: s.a.m.
Recorded at: Le Boudoir, Lynbrook, New York
© 1998 s.a.m.