The Conqueror Worm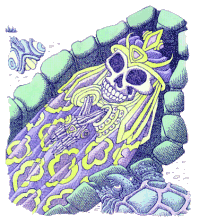 Okay, let's talk "The Conqueror Worm." In this poem, Poe creates an atmosphere of celebration of all that is horrid and cruel. Normally, you would expect to hear dire sounds of dread. Instead, Sonny Meadows and his crew have created a wonderful dance of the dead! You can just see all the skeletons, devils, wtiches, worms and such coming out to party as they devour the human soul. Combine this with Roger Luce's deep, dulcet tones and you have one hellava dead party!
- Dennis Daniel


Read by: Roger Luce, WBAB
Voice-Over Produced by: Roger Luce

Music by: Sonny Meadows/Jim Manone/Sonny Speed
Produced by: Sonny Speed
Recorded at: Son Spot Studio, Commack, NY
Mixed and Engineering by: Sonny Speed
Duh Poe Boys
Acoutic Guitar and Percussion: Sonny Meadows
Electric Guitar and Percussion: Jim Manone
Melodica and Percussion: Sonny Speed
Band Comments:
This was an extrememly interesting and creatively challenging project. Developing musical forms and content which capture the dark elements of Poe's work and the haunting dynamics of Roger's read pushed us into some new levels of artistic exploration. Thanks for the opportunity.