The Sleeper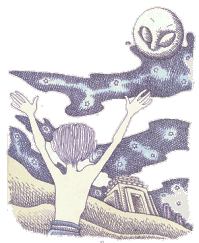 Here again is a classic example why this project exists. Poe and jazz together? You bet! Since Gerry is such a huge jazz fan, I wanted the music behind his read to be representatiive of his personality. I also wanted eaach cut to be as musically different as possible. Michael Johnn is a brilliant musician and he proves it here! He takes the pentameter of Gerry's read and perfectly combines it with some very cool jazz indeed.


Read by: Gerry Martire
Composed and Performed By: Michael Johnn

Drums: Adam Dunne
Recorded at: Barnstorm Recordings
Fort Salonga, New York
© 1998 Micheal John Alola
Michael Johnn's Comments:
This was really a cool challenge. I've never done this before. It's amazing what being wound up at 3am in the morning after a gig will do for you. Thanks to my wife Gail and daughter Sarah for their patience. Thank You Dennis.