The Haunted Palace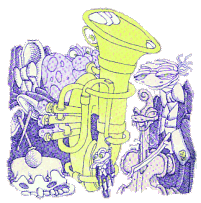 How could something so good (a beautiful castle) turn into something so bad (a pile of rubble)? Poe uses the first four stanzas to describe a "once fair and stately palace-radiant palace," but it takes only two more stanzas to describe how "Evil things, in robes of sorrow" destroyed it. It was Rick and Flo's idea to have them play off each other (after all, they are a morning team on WBZO aka B-103)
and it works beautifully.
The Montgomery Cliffs created two different music pieces and left it up to me to choose. The first was a powerful rock rendition, however, it tended to over dominate the prose. The second piece, on the other hand, perfectly counterpoints the vocals, creating both a sense of dread and joy.
- Dennis Daniel


Read by: Rick Marini
and Flo Federman, WBZO

Voice-Overs Directed by: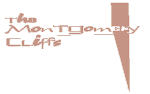 Dennis Daniel
Voice-Overs Produced by:
Rick Martini and Flo Federman
Music by: The Montgomery Cliffs
Music © 1998 The Montgomery Cliffs