For Annie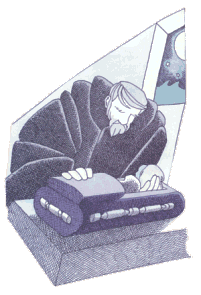 Drew Kenyon from WRCN is a funny guy. Real funny. We're talking "funny" here. Which is why I decided to give him such a sorrowful poem. I wanted to hear how this funny guy would sound reading one of Poe's saddest, gut-wrenchingly mournful pieces. The gruff nature of Drew's voice wonderfully compliments this tale of a man who's only hope for relief after having watched his beloved Annie suffer and die...is to die himself.
- Dennis Daniel


Read by: Drew Kenyon, WRCN
Voice-Over Produced: Drew Kenyon

Music by Bonesugar
Bonesugar is:
Marc Clayton and Peter J. Dillion
Recorded & Mixed by: George Fullan
Assistant Engineer: Nuno Oliveira
Recorded at Pie Studios (516) 674-3300


Special Thanks To: Perry Margouleff
Contact Marc Clayton at (516) 226-4093
for any further questions.
© 1998 Bonesugar
Band Comments:
On playback, we turned off all the lights in the control room. As the poem began and then the music tracks started, the element of music and words took on an unworldly new meaning of sound in the dark that gave us all goosebumps...re-assuring us that we had our track.